Dr. John Elefteriades talks with Carole Marks 1/4/2015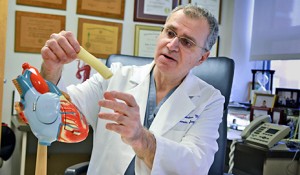 Cardiac surgeon John A. Elefteriades is a Professor of Cardiothoracic Surgery, the director of the Aortic Institute at Yale University and Yale New Haven Hospital. Not to mention being rated one of Men's Health magazine's ten best doctors in America. In this episode Dr. Elefteriades shares lessons about the human heart and some very moving, patient stories.
Dr. Travis Stork with Carole Marks
He is an ER physician and the lead host of the popular daytime medical talk show "The Doctors" and will talk about his new book, The Doctor's Diet Cookbook: Tasty Meals for a Lifetime of Vibrant Health and Weight Loss. (Bird Street Books) He will also give tips to help fight cold and flu symptoms before they start.
Podcast: Play in new window | Download (6.0MB)
Subscribe: Apple Podcasts | Google Podcasts | Email | RSS | More