The story of the generation of hidden child survivors told through the true experiences of three Jewish girls—from Poland, Holland, and France—who transcended their traumatic childhoods to lead remarkable lives in America.
Only one in ten Jewish children in Europe survived the Holocaust, many in hiding. In Such Good Girls, R. D. Rosen tells the story of these survivors through the true experiences of three girls.
David Osmond & Dr. Shanan Munoz David is a member of "The Osmonds 2nd Generation," a band comprised of all brothers and sons of Alan Osmond. He is the nephew of Donny and Marie Osmond. Dr. Munoz is a neurologist who cares for MS patients at the MS clinic at UT Southwestern. David is an MS patient and he has written a song to raise awareness about the disease called "I Can Do This." For more information about this campaign, go to www.OurVoiceInSong.com.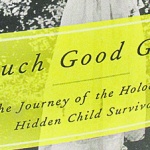 Attorney Steve Weisman ill discuss bank call center scams.
Podcast: Play in new window | Download (6.1MB)
Subscribe: Apple Podcasts | Google Podcasts | Email | RSS | More